Losing an eye or getting clawed by your cat is not worth a cleaning. Below we outlined a step by step procedure to make cleaning your cat as easy as possible. From before the bath, to during the bath to after – follow these steps below to make your next kitty bath and fun and safe experience.
Before the Bath: Set Up for Success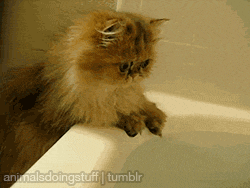 Trim your Cats Nails
If your cat is a scratcher, trimming their nails before is essential. Even if your cat is not aggressive, the water may spark a fight or flight response. They don't know what's happening. Most cats are scared of water. Trimming their tails is a good precautionary step to avoid losing an eye.
After trimming your cat's nails, if they're in a bad mood consider waiting a day or two for them to settle down. One of the most important precautionary steps to keep in mind is to make sure they're in a happy mood. Play with them, pet them, talk to them in a soothing voice. The more positive emotions you can bring into the cleaning the better they behave during it.
Prepare the Bathing Area
Step two, prepare the bath area and clean up your space. Make sure you chose a room that is open, with minimal hiding spots. After you have a room in mind, set up all your tools so that they are easily accessible. You don't want to run into a situation where you have to go looking for something. This will increase the chances of your cats getting away.
For essentials, you'll want towels, pet shampoos, some treats, cotton balls (for your cat's ears), a comb and brush and anything else that comes to mind.
If you're looking to treat fleas, buying a comb specifically for that will help in the process. Also investing in treatment shampoo will be a huge win. The shampoo will stun the fleas, so it will be easier to comb out of the cat's hair.
Fill Tub with Water
Make sure you are in an ideal situation to clean your cat. Are you going to use the sink or the tub? If you have a history of back problems, consider using the sink as you won't have to bend down as much as possible.
As you add water to the tub, make sure it's warm, but not hot. Cats have an acute sense and will not be happy if you put them in hot water. Add just enough to clean them, but not enough to where it could be a harmful situation – you don't want the possibility of them droning.
Invite your Cat to the Room
When you're ready to bring your cat to the bath, remember, you want to make the experience as smooth as possible. Don't spend time chasing them over the house.
If they are in a playful mood, engage in that. Play with them for a little. Tiering your cat out before a bath is a good idea, as you'll have fewer problems during the bath.
Lure them with a treat or toy. Talk to your cat in a comforting and soothing voice. Use whatever techniques you use to calm your cat down. A calm cat will be a hundred times easier to clean as one that is scared, anxious, nervous etc…
Prepare Cat for Bathing
Stop what you're doing. Before the bath is a perfect time to reinsure them that you're not punishing them. Talk to them in a soothing voice and pet them gingerly.
You have brought them into an uncomfortable situation. Make sure they are as calm as possible before introducing the bath.
Let your cat sniff the water and wait till they become adjusted to the location. This is also a good time to put cotton balls into their ears to reduce irritations. A small amount will do.
If your cats are still struggling, we would suggest getting a bath harness. Yes, this will add to the stress, but it will reduce the chance of running into a painful situation. Stay away from creating a predator-prey association.
During the Bath: Quick and Easy
Put Your Cat in the Water
When putting the cat in the water, it is best to grab them by the scruff of the neck, while also scooping their hind legs. Mother cats use their baby's scruff to lead and teach them. Use this when washing them.
Also, note that some cats like it when their owner gets in the water with them. If they have already been showing force to get away, ignore this.
Wetting the Coat
To clean your cat, use one hand to hold them in place while using the other to pour water over their coats. If your tub has a shower head, that's ideal
When cleaning their head, you don't have to get their entire head wet, just their back of the neck and a little bit on the top of their head will do.
Shampooing the Coat
To apply shampoo, keep that hand on your pet and use your free hand to drip onto your cat. Make sure the bottle is easy to reach so you're not creating too much work. Run shampoo throughout the cat's coat. To clean their face, all you need is a couple of drops of water.
When handling fleas, remember fleas will sense the threat and instinctually migrate to the cat's extremities. If they return to the body they will be stunned by the shampoo and you'll be able to comb them out or use your hands.
Rinsing the Coat
To rinse, drain the tub/sink with the cat in it. Use the cup or shower head to rinse once again. Continue to rinse until there's no more shampoo. If there's extra soap after dried, your cat will just attract dirt more easily. Repeat until shampoo is removed.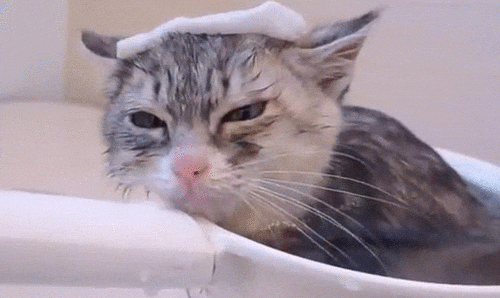 After the Bath: Leave on a Positive Note
Remove  Extra Dirt and Fleas
When removing fleas, run your comb from the neck of your cat to the base of their trail. After you've done this a couple times, comb the shoulders and back legs. While combing you'll remove fleas and their eggs and create grooves so it'll be easier to spot fleas.
Use your hands to remove any bugs that the comb couldn't get. Larger pleas will feel like small seed-like lumps. CHECK THEIR TUMMY, this is a favorite place for fleas to hide.
Squeeze Water Out of the Coat
Time to begin the drying process. Form a "U" shape with your free hand and brush your hand down your little buddy. Using your hand as a comb, gently push the remaining water out of your cat's fur. Gently grasp tail and repeated a few times. Squeeze fur around tummy to dry.
Dry Using a Towle and Hairdryer
Next, grab a towel and rub the coat until it feels dry.
After the towel, use a hair dryer to finish up with. Only use this tool if your cat's comfortable with it. Unwrap them from the towel and set the dry's heat to low. Turn the dryer on and pass it by them to test how comfortable they are.
If your cat remains calm, proceed to dry cat. Continue until dry and fluffy. Their legs and tail may still be wet, this is ok as the will quickly dry once the cat can groom themselves.
Offer Treats and Pet Cat
Reassure your cat that you love them. They have just gone through an unnatural experience. They may still be nervous and skittish. Once the cleaning process is over, give them a treat and pet them to reassure them you love them.
If your furry friend has a hairball history, buy some hairball treatment treats. After a bath, your cat will spend a lot of time grooming themselves and, in the process, injecting hair. Hairball treatment treats contain fish oil that will allow fur to pass through the digestive system more easily.
What If the Cat Absolutely Won't Cooperate?
If your cat is having none of it. If they are totally uncooperative. If you are in danger of lifetime scars or a missing eye, then consider calling a professional or a local vet. They'll know what to do. Your vet will be able to safely sedate your cat so to easily bath them.