Does your furniture look like it went through a blender? Have your friends stopped visiting? Are you afraid of your cat? If so, it might be time for a serious talk with your furry feline. It's time to trim their nails.
Many think trimming your cat's nails will hurt them. Actually, no. It only hurts them if you cut too deep and hit a nerve.
The point of trimming your cat's nails is to reduce the sharp tips. You aren't taking off the entire nails, just what's causing the issue.
Nipping their tips makes life better for both of you. Cats don't know the difference between what's ok and what's not. You'll be able to play together in a happy and safe environment.
Understanding the Nature of Why Cat's Scratch
Cats scratch for many reasons. One is to remove the dead outer layer of their claws. This is to mark territory and for personal grooming.
Hunting

Cats are natural hunters. There have retractable claws that hold onto prey. They have a natural tendency for playing, hunting and chasing. This is an instinctual habit. You can notice this next time you watch your cat play.
Climbing
Your cat's curved claws help when climbing. includes trees and other surfaces. Indoor cats use their nails to grab furniture and cat trees to support them from falling.
Stretching
Stretching is a great form of exercise that helps them relax their muscles. Your cat's claws allow the cat to grab onto items, twist, and stretch. This is a huge source of enjoyment.
Leaving their Scent
When your cat scratches, they are also leaving behind their scent. Your cat's claws have glands. When they scratch things they leave behind a signature scent. This is also their personal scent.
Protecting Themselves
Their claws are a method of self-defense. When they are faced with a predator they are able to use their sharp claws as a defense. Indoor cats also use their claws. It gives them security, knowing they can protect themselves.
They also use their claws as a message. Swatting to communicate their need for distance to dogs, people or other unwanted animals.
H2 Get Your Cat Comfortable with the Idea of Trimming Their Nails
For the best experience, when trimming your cat's nails, you'll want to introduce the idea at an early age. When they are just kittens. What you'll want to do is pretend to trim them by applying slight pressure to their nails, then offer a treat shortly after.
Cat Filing Nails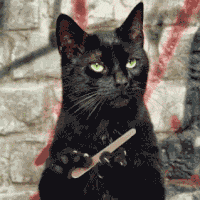 When they are kittens it is smart to apply a soft file to their toenails. This won't irritate them. It won't make them scared of the idea of trimming their nails.
You'll want to check your cat's nails on a regular basis. To do so, check your cat's nails when they are asleep. When they are sleeping they are relaxed, meaning their nail will be relaxed. If your cat's nails can be seen while asleep, they need to be trimmed. Usually, back claws need it the most.
Cat Nail Trimmer
For adults cars, use clippers specifically designed for cats. Keep the clippers sharp and well-maintained.
To trim press your cat's paws between your finger and thumb. Unsheathe the claw and snip off the transparent tip.
If this is your first time, make sure to do your research before. Ask an experienced friend, call your vet and or ask a groomer. You don't want to hurt your furry friend. If you trim too much you could hit a nerve, injuring them.
Before you trim, prepare silver nitrate and cotton swabs. If you do happen to trim too much and your cat's nails start to bleed then apply the silver nitrate and cotton swabs. Check with your vet if the bleeding doesn't stop or if anything unusual happens.
Cat Nail Trimming Near Me
If scared or uncertain of doing this yourself, don't sweat it, call in a pro. Below we listed some of our favorite groomers in Austin, TX.
Midtown Groom & Board
Midtown Groom & Board have a friendly, experienced staff. The needs of each pet are personalized to your pets needs. They include a full-service grooming. This includes customized styles, hand scissoring, and specific style for special breeds.
Groomingdale's of Austin
To quote the "Groomingdales of Austin is an exciting new concept in animal care". They are a full-service pet grooming salon in Austin, Texas. They have a separate facility for both cats and dogs. A natural approach for pets phic emotional well-being.
Dirty Dog
This company is more specialized for dogs. Dirty dog was founded by Blair and Alesha who moved to Austin in the summer of 2003. Their company started when Blais's dogs needed a cleaning and she didn't know who to contact. She did it herself and started Dirty Dog 6 months earlier.
Don't let your cats nails cause your life to spiral out of control. Take charge, trim those suckers. And remember, replacing a scratched item is a little price to pay when it comes to the love companionship that comes with owning a cat.