Cats in Small Apartments
Overall cats are low maintenance pets. You don't need to take them on regular walks. You don't need to take them outside to go to the bathroom. Feeding them is easy. But caring for them isn't simple. Cat's need your love and attention.
A health kitty will have regular play time, places to hide and lounge, and toys and activities to keep them busy.
Do Cats Get Bored in Apartments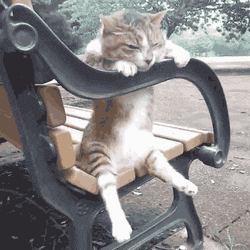 YES! This is the number one cause of most cat problems. It starts with boredom and becomes something worse. Their boredom can spiral into other unpleasant habits.
Cats need LOVE. Not just a petting them daily. You need to structure your apartment around their lifestyle.
Signs of Bored Cats
1. Grooms Often
When cats get bored, one common habit you may notice is over-grooming. This and repetitive behaviors. Your cat will find activities to fill their time. Over-grooming, repetitive licking, pulling on fur and chewing at skin are all symptoms of a bored cat 🙁
2. Aggressive Chasing
Another common symptom you may notice is chasing. He/she may chase after other cats, dogs and even you! Even dogs that are bigger than them.
3. Laziness
Lazy behavior and inactivity are clear signs of boredom. If you cat only moves to sleep and eat, you may have a problem.
4. Glum Behavior
Your cat seems disinterested. In eating, playing, the environment around them.
5. Destructive
The cat is destroying your apartment! Again if they are not active they will find ways to be active. Destroying furniture is one common outcome.
6. Obsession Over Food
If your cats are eating and eating. This is a common sign of boredom. At this point, they aren't eating to fill themselves. They're eating to do something.
http://www.pawculture.com/
Ideas for Cats in Small Apartments
Addressing this issue can be simple and fun. Be prepared to re-organize your apartment and daily habits.
1. Places to Perch
Create vantage points around your apartment for your cat to perch and lounge. Surveying their habitat is a natural survival instinct. This is the idea behind cat trees.
Other easy ways to create vantage points are cleaning off your fridge so they can perch. Strategically open and place shelves for cats to rest and perch. Place bookshelves and dressers near windows for your cat to hang out.
Windows are huge for house cats. Windows are like cat televisions. They get 24/7 commercial-free programs. Able to watch people, birds, and sounds that stimulate their hunting instincts – ALL DAY. During the winter, place a blanket for them to get all cozy.
2. Quality Playtime Once / Twice a Day
Cats are hunting animals, they have a high prey drive. Make sure to schedule time at least once or twice a day to play with them.
3. Get a Scratching Post
Scratching is a necessary habit. It allows them to scrape off their outer claw layer. It Also allows them to mark their territory and stretch.
To discourage them from scratching your furniture, apply citrus cents or wrap sticky tape to the area. To encourage them to scratch, spray catnip!
Where to Put Cat Litter Box in Small Apartment
Ideally, you'll want once litter box per cat, with one extra one in case the other gets dirty or is unavailable.
You'll want to place their litter box somewhere private. Best place is somewhere out of the way but also easily accessible. Catlike humans- want to feel comfortable while doing their business.
DIY Cat Furniture
Buying at furniture can be expensive. If you want your feline friend to love living with you, build appropriate accommodations for them. A fish tank with fresh salmon, tunnels and escape routes to play, other cats to play with… Just kidding this is unrealistic.
If you like a fun DIY project make your own cat furniture. Keep your budget and style intact. Below be listed some cool examples for an inspirational boost!
DIY Cat Tree Example
Kittens Houses Examples
Make Sure They're Not Bored While You're Away
Have a day job that consumes a lot of your time? Going away on a trip? Are you a busy person cat owning person who doesn't spend much time in your apartment? Let us know! We'd love to take care of your little friend. We promise to keep the entertained and happy while you're away.